Just a few decades ago, only a handful of motorcycle brands ruled the industry. But a plethora of international motorcycle brands is slowly making its way into the Asian markets. And, the scenario has gotten a lot more competitive. BMW, Harley Davidson, SMW and among others recently their plans to transition into the Asian markets including Nepal. Yet, another international brand is added to the list. Jawa Motorcycles has announced its intention to enter the market.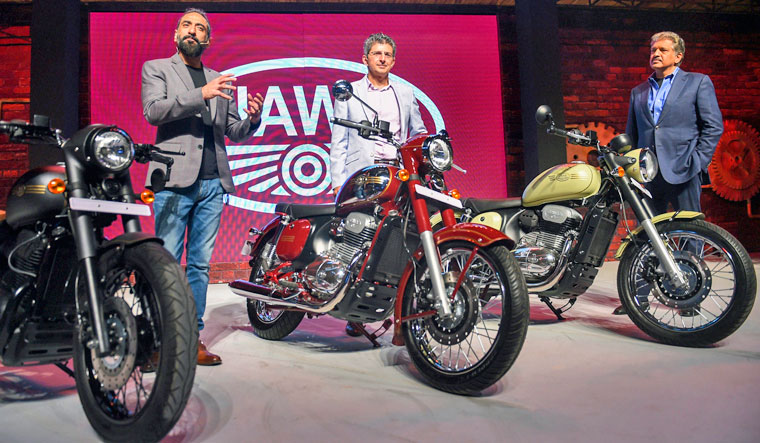 Last week, Jawa Motorcycles reentered the Indian market with two new models. Yes, "reentered". Even though, some might have never heard about the brand. It was a Czech brand, hugely popular in the 1950s in over 120 countries. It was even sold in India, appearing in several old Indian cinemas. Moreover, the brand dominated the Indian market from the 1970s. Unfortunately, disappearing in the 1990s until now.
Thanks to Classic Legends, a Mahindra and Mahindra subsidiary, JAWA finally makes its official return with two new models. The new Jawa Classic and Jawa 42 are expected to bring the brand back to its old glory days. The all-new range will comprise of a Classic, Sport, and Bobber model.
Jawa brings back the retro design with the polished chrome, stylish curves, and retro lines. Complimenting the retro design, it gets a rounded headlight, dual tone chrome finish, wire spoked wheels and analog instrument cluster. Both motorcycles will be powered by a single cylinder, fuel injected, a liquid cooled engine with 293cc engine displacement. The 6-speed transmission will easily offer the max power of 27HP and a max torque of 28Nm.
This slideshow requires JavaScript.
My Thoughts
I had never heard about JAWA motorcycles. Putting my research into this "unknown" brand, my level of excitement continued to reach to the newer heights. First look at this will literally make your mouth water. The retro design, the chrome finish, the specs sheet, and everything looks simply amazing! Slowly I realized why it dominated the Indian markets in the past decades. It's like a motorcycle that every one of us dreams of having at some point in our life. It is the very epiphany of the retro design!

What does this mean for the Royal Enfield motorcycles? Well, JAWA is sure to become its one true rival. It might even make Royal Enfield to finally step up their game, but who knows.
I am a fan of both Royal Enfield and JAWA motorcycles. But as far as personal preference goes, I do genuinely like JAWA. Furthermore, I am truly excited by the prospect of what it might bring to the table.
Will it come to Nepal?
It usually takes about eight months for newly launched motorcycles from an already established brand to enter the Nepali market. And Jawa is a newly established company. There are currently no plans for its launch the Nepali market. So, it might take a year or maybe more. But that might soon change based on its reception in the Indian markets.
Are you excited about Jawa making its return? Will it end the era of Royal Enfields? What are your thoughts? Tell us all about it in the comments below!
---